Just over a month ago, I saw a post that Denny Laine would be performing in my hometown of Pittsburgh.  I was super excited, and also maybe a bit hesitant.   I knew for sure I wanted to see him perform.  I knew certainly enough that I was standing in an airport in New Orleans when I booked my tickets on my phone as they went on sale to reserve a table at the Hard Rock.
But was I just collecting?  Denny is the last living Moody Blue I'd never seen live.  (I was born in 1978 and as far as I can tell never had a chance to see Clink Warwick play).  I like a lot about the "Mark 1" Moody Blues (Denny/Clint/Mike/Ray/Graeme).  The first (45) records are mostly covers as they found their way.  I think many pass over are the fantastic songs the Mark 1 Moodies made towards the end of that period, before Denny and Clint left.  I have ALWAYS liked This Is My House and Boulevard de la Madeleine.  When I finally got a copy of the French EP with People Gotta Go (before it ever saw a CD release) I loved that song even more.  Denny and Mike were writing some great songs.  Even though Denny left, the band was starting to find its songwriting talent, (as was Denny), and that carried into the "Mark 2" Moodies as they recorded about a half dozen songs before Days of Future Passed.
I have more than a few of Denny's solo albums (and I admit, only two Wings albums on vinyl).  I can't explain why, but his Reborn album always stuck with me as a favorite.  That's sometimes the thing about music; it finds you at the right time in your life.
So why was I hesitant?   I wondered what the show would be like.  Plain and simple.  I don't think I've heard even a recording of Denny in the last 10 years.  Well – I am so glad to have been there I can hardly express it.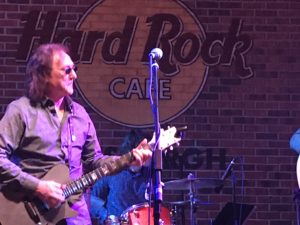 Denny and his band (after an opening act) began by playing Band On The Run in it entirety, and in a casual bar setting, it was perfect.  Lots of joining in was encouraged by the band, and plenty of fun banter from the stage.  It really had an energy I wasn't expecting.  Denny joked at one point that he had written two parts of a song, Paul had written the in between, so of course, it's credited to "Lennon/McCartney" most of the time.  "Get it right!"  He told the story behind Picasso's Last Words starting with "Paul had a Picasso on the wall…. because when you're a Beatle, you have a Picasso on the wall…"  I really can't say enough about how great the performance was.  His harmonica on Bye Bye Bird was I think as good as I've ever seen on videos from the 60s.  My date had a real blast with this one!
If you get to see this show, don't miss it for anything.  Sir Paul won't give you the entire album.  And of course if you're a Moodies fan like me, you'll never hear The Original Singer perform FOUR of the songs from "Moodies #1".  Deep in my soul I'd loved to have heard one of his co-compositions with Pinder, but now I'm really hoping beyond hope!
---
After the show, Denny came out to do a signing.  Apparently this is common knowledge and people showed up with LPs.  I didn't know, and I didn't know what the Hard Rock would let me walk in with, so I came with a 45 and a CD tucked into my jacket.
Denny was so friendly and chatted with people as they went by.  I put down my Moodies EP (People Gotta Go) which he happily signed, then, the CD of Reborn.  He was suddenly excited "I haven't seen this in so long!"  He took the sleeve from me and showed his girlfriend how he appeared in two ways on each page, once as "modern" and once as a ghost – I asked him "Is that you, too, in costume?" and he said "Yes!  As an old composer, you know?  Reborn?"  He signed that as well.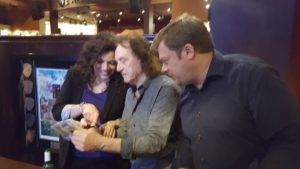 And here is my People Gotta Go EP.  Being signed.  Is this for authenticity?  No.  This will never be for sale!